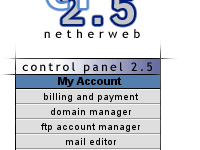 Netherweb Control Panel
A web application to allow virtual hosting customers to manage every aspect of their web sites. Users have full access to their web sites from anywhere with a web browser. Try it out with a demo account (username: demo, password: test).
Edit and manage files
Manage e-mail accounts and aliases
Manage multiple domains and subdomains
Display traffic statistics
Handle billing and payment
Technologies Used:
Perl, MySQL.