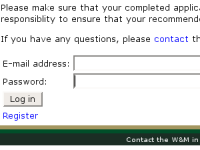 W&M in Washington
An online application form for the William & Mary in Washington program. Students fill out the form online, and the completed applications are sent to the staff. This replaces the paper forms used in previous years.
Allows applicants to complete their applications in multiple sessions
Validates applications for completeness
Supports user-customizable fields
Technologies Used:
PHP, MySQL.