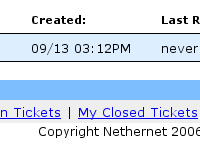 Netherweb Ticketing System
A ticketing system for technical support questions. Users can open a ticket either through a web form or by e-mail. A simple web interface allows both users and staff to track the progress of their tickets.
Reduces time wasted handling spam
Simple and easy to use for both end-users and staff
Technologies Used:
Ruby, MySQL.