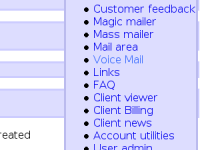 Netherweb Staff Control Panel
A web application to assist virtual hosting staff. An access control system allows administrators to control which parts of the system each user may access. A plug-in system allows for easy expansion.
View and activate new accounts
Read and answer support e-mail
Access voice mail online
Access customer and account information
Manage projects and to-do lists
Technologies Used:
Perl, MySQL.